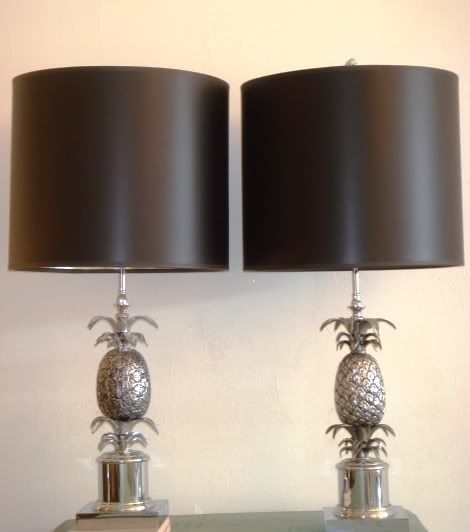 Lately I am just obsessed with pineapples! Maybe it is because I miss the Gulf Coast, who knows? Whatever the reason, I am obsessed with some obsession sauce on the side! So here are a couple of things that have struck my fancy. To the left are a pair of simply, and ridiculously gorgeous Maison Jansen table lamps, available at Thomas Brillet Inc. Added interest: Used by Miles Redd in Shyama Patel's Manhattan flat, featured in the November 2006 Elle Decor. Although, now that I've told you where to find this pair don't sneak off and steal them from underneath me because I am saving up for them, I swear!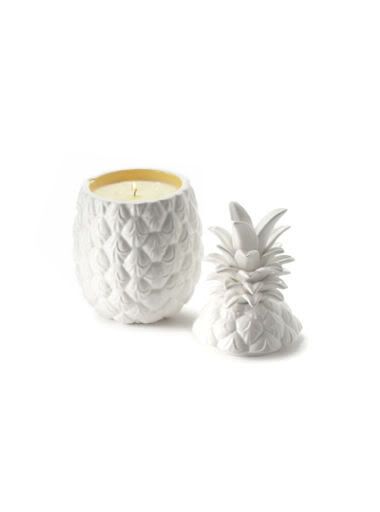 Definitely on the more affordable side is this pineapple-mango candle housed in, what else, a white ceramic pineapple. Now I know on the first post I made that nasty comment on figurines, but I don't think that this is a figurine categorically. And it smells like a mango mojito. These are available in two sizes petite (around $16) et grande (around $50)at your local White Barn Candle Co. I think both sizes might have a new home on my bathroom vanity.(Seriously is it wrong to love these?)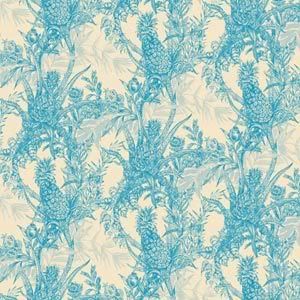 And last but certainly not least a pineapple toile wallpaper from Timorous Beasties. You know a Southern girl can't resist toile! I think this would look absolutely fabulous on a ceiling. This wall covering does a great job of joining fun, fresh, colors with a traditional decorative element. (Don't worry they offer some not fun (?), traditional colorways too)
Anyway, if those aren't reason enough to incorporate some Pineapple into your interiors, keep in mind that Pineapples are symbolic of hospitality, another Southern girl staple.